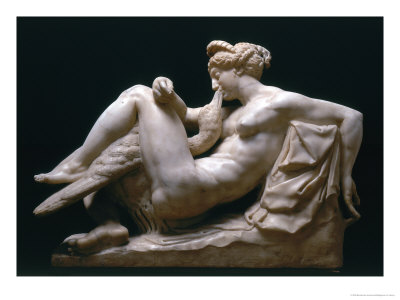 Bartolomeo Ammannati (1511-1592)
Leda And The Swan
William Butler Yeats
(1865-1939AD)
A sudden blow: the great wings beating still
Above the staggering girl, her thighs caressed
By the dark webs, her nape caught in his bill,
He holds her helpless breast upon his breast.
How can those terrified vague fingers push
The feathered glory from her loosening thighs?
And how can body, laid in that white rush,
But feel the strange heart beating where it lies?
A shudder in the loins engenders there
The broken wall, the burning roof and tower
And Agamemnon dead.
Being so caught up,
So mastered by the brute blood of the air,
Did she put on his knowledge with his power
Before the indifferent beak could let her drop?
Notes
William Butler Yeats's daring sonnet describing the details of a story from Greek mythology—the rape of Leda by the god Zeus in the form of a swan—was written at the height of the poet's career, the same year he received the Nobel Prize for literature. "Leda and the Swan" is a violent, sexually explicit poem that has all of the lyricism and complexity of Yeats's later work, with its plain diction, rhythmic vigor, and allusions to mystical ideas about the universe, the relationship of human and divine, and the cycles of history. It can be seen as a poem about the way a single event is to be understood as part of a larger scheme; the result of the god's assault on Leda is the birth of Helen of Troy, the subsequent destruction of early Greek civilization, and the beginning of the modern era. It has also been suggested that the poem, which was first written (and later revised in this present form) during the Irish Civil War of 1922–1923, is intended to draw attention to the violence that beset Yeats's homeland during that time.
"Leda and the Swan" has been considered one of the most technically masterful poems ever written in English. In the work, Yeats uses the fourteen lines of the traditional sonnet form in a radical, modernist style. He calls up a series of unforgettable, bizarre images of an immediate physical event using abstract descriptions in terse language, while at the same time offering a distanced view of that occurrence in the sweep of time. Yeats himself considered the poem one of his major accomplishments, and in addition to praising its economy of language and skillful use of rhythm, critics have seen it as a fine example of how ideas that were central to the poet's life found expression in his poetry.